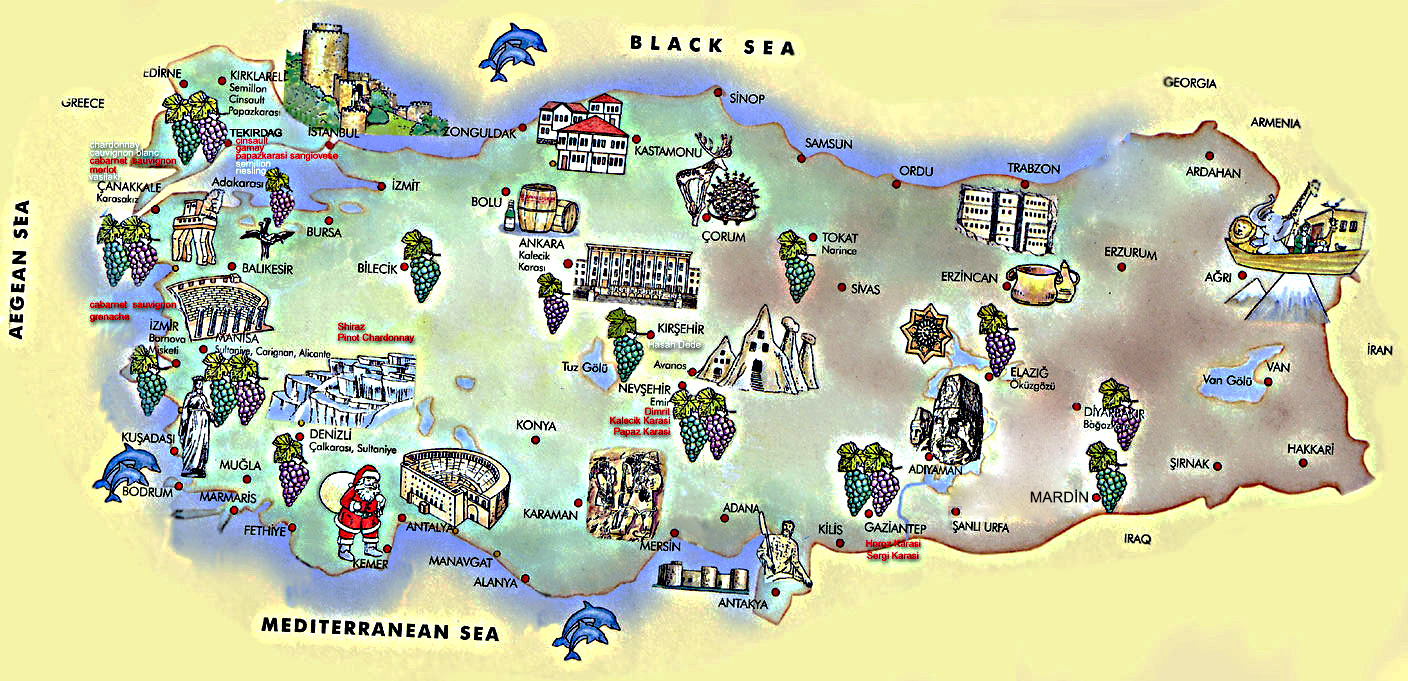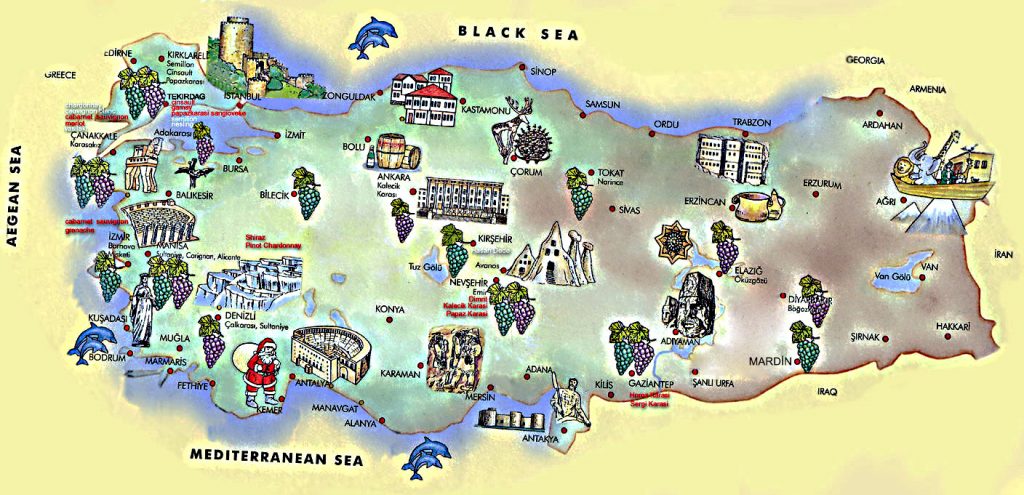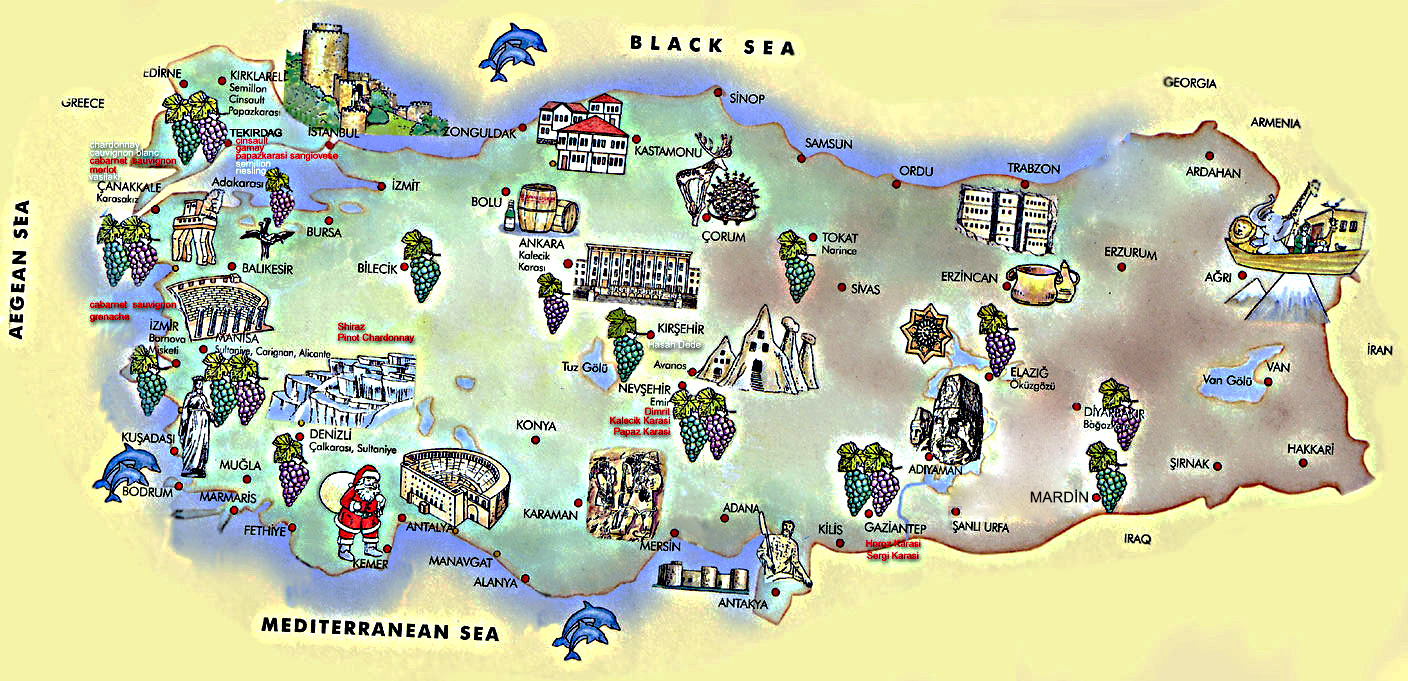 Thrace and Marmara
There is a rich treasure of wine grapes in the Marmara Region. Sémillon, Gamay, Karasakız and Ada Karası are examples of this.
Sémillon grape is a type of Bordeaux wine region, and it is also grown in the Thrace region of our country. Grape grains are medium in size, round, thin-skinned and juicy.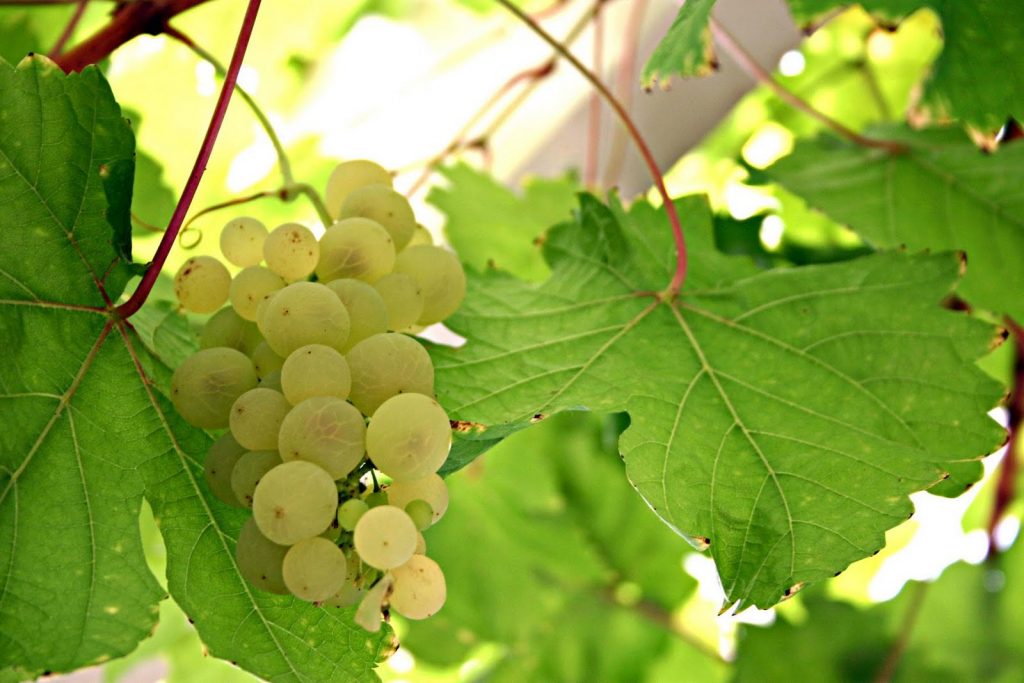 Semillion Grape
The origin of the Gamay grape, which grows almost everywhere in Thrace, is from the Beaujolais region of France. It has a reddish color that turns blue.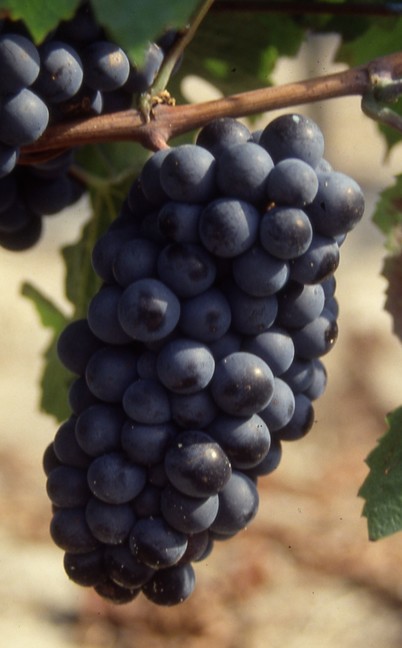 Gamay Grape
The local Karasakız grape, whose real name is Kuntra, is grown in Çanakkale. The grape is fleshy, juicy and dark in color.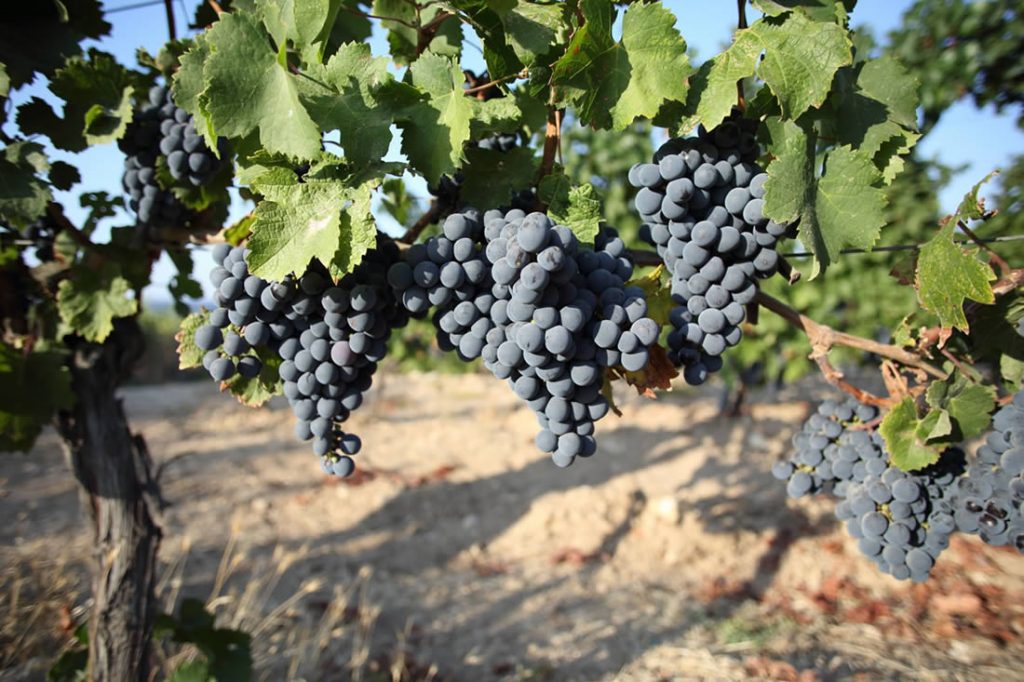 Kuntra Karasakiz Grape
On the other hand, Ada Karası is one of the high quality wine grapes of Turkey. The bunches are medium-sized, the grains are oval, thick-skinned and fleshy.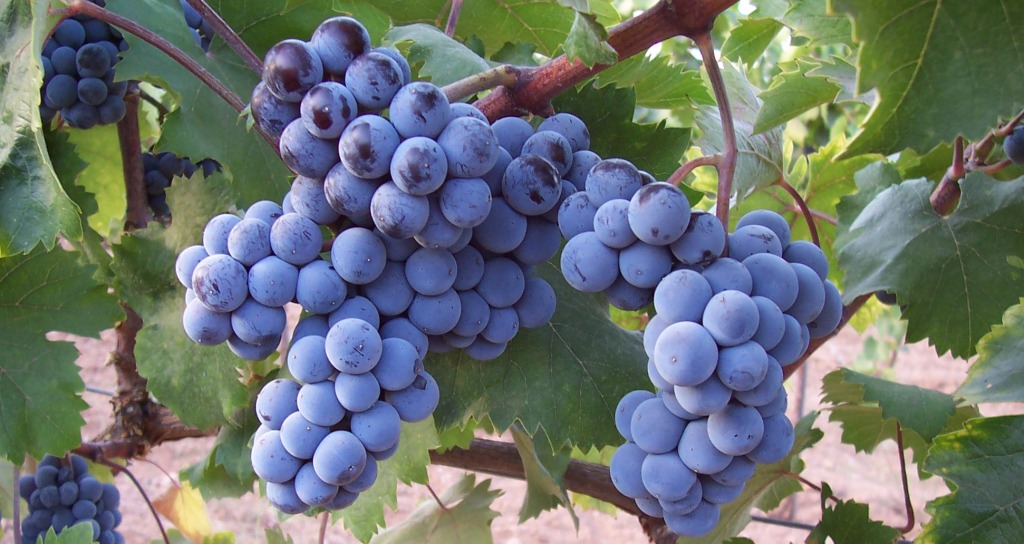 Adakarasi Grape
Aegean Region
Wine grapes in Turkey are mostly concentrated in the Aegean Region. Most of the local and foreign grapes grown have found their home in the gentle, warm-blooded soil of the Aegean. High quality and solid wines are obtained from these grapes grown in a sweet warmth and the breeze of the sea. Some of these are the famous fruit wines of Shiraz, Cabernet Sauvignon, Sultaniye, Carignan and of course Sirince.
Shiraz. Syrah Grape
Let's start with Shiraz. Syrah – also known as Shiraz – has its origin in the Rhône region in the north of France. The grains are oval and medium in size and bluish black in color. The wine, which turns dark red, has a demi-sec – that is, semi-sweet – feature.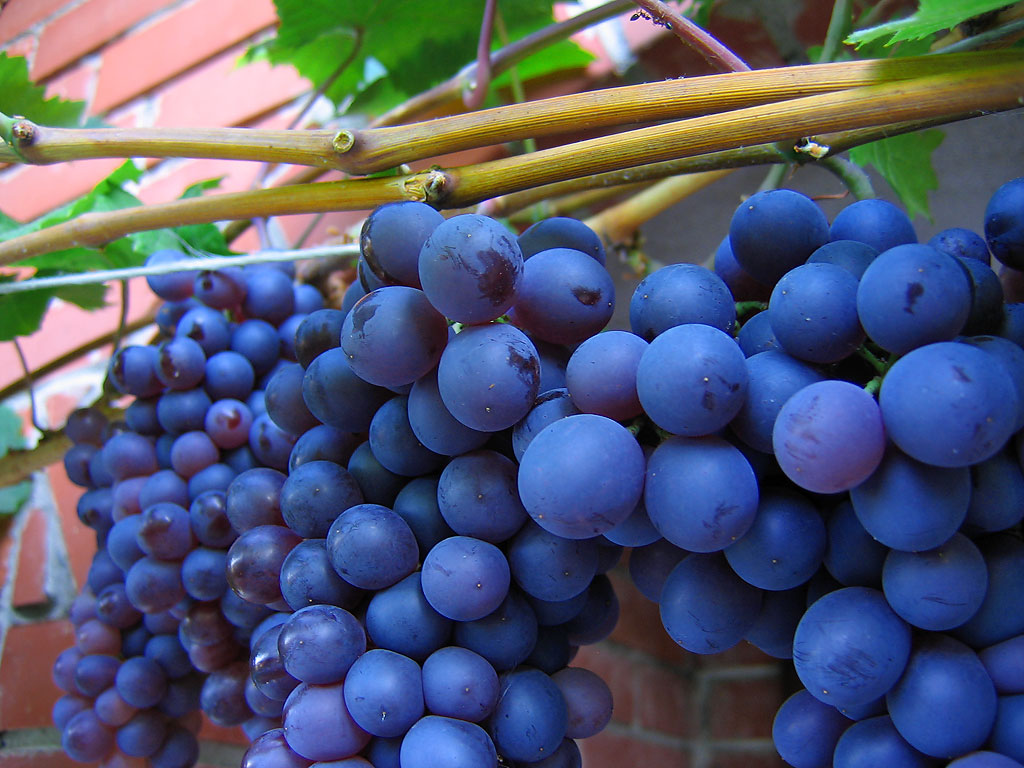 Cabernet Sauvignon Grape
Cabernet Sauvignon was less sweet than Syrah. This time, however, Syrah's light aroma received an intense fruit burst. It is one of the leading red grape varieties of French and world winemaking and is grown in the Bordeaux region. Grapes are small bunches, purplish black in color and their grains are thick rind. Its wines can be counted as the most common and important type of black wine in the world. This is because; The potential to produce very high quality wines in almost every region. Cabernet Sauvignon can be matured in oak barrels, but we do not prefer it because a separate chemical is used for this barreling process.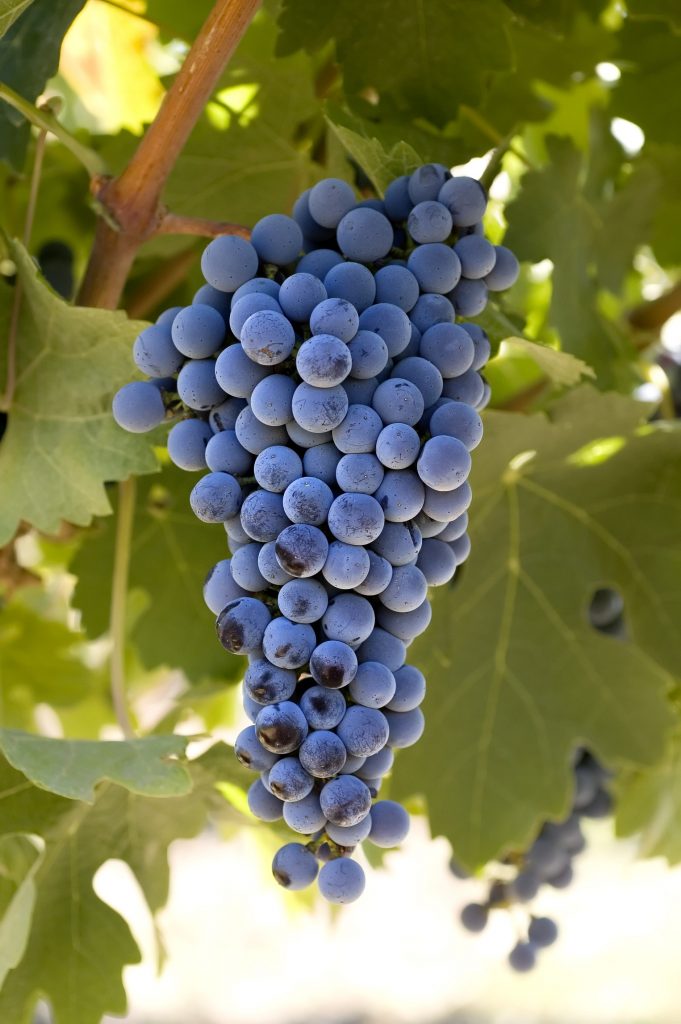 Sultaniye  Grape 
Sultaniye grape covers a large vineyard area especially in Izmir and Manisa regions. The feature that distinguishes Sultaniye from other grapes is that it has gained value primarily as a table and dried white grape variety. The grains are meaty and interestingly seedless. Its wine becomes light, pleasantly drinking and fruit-flavored.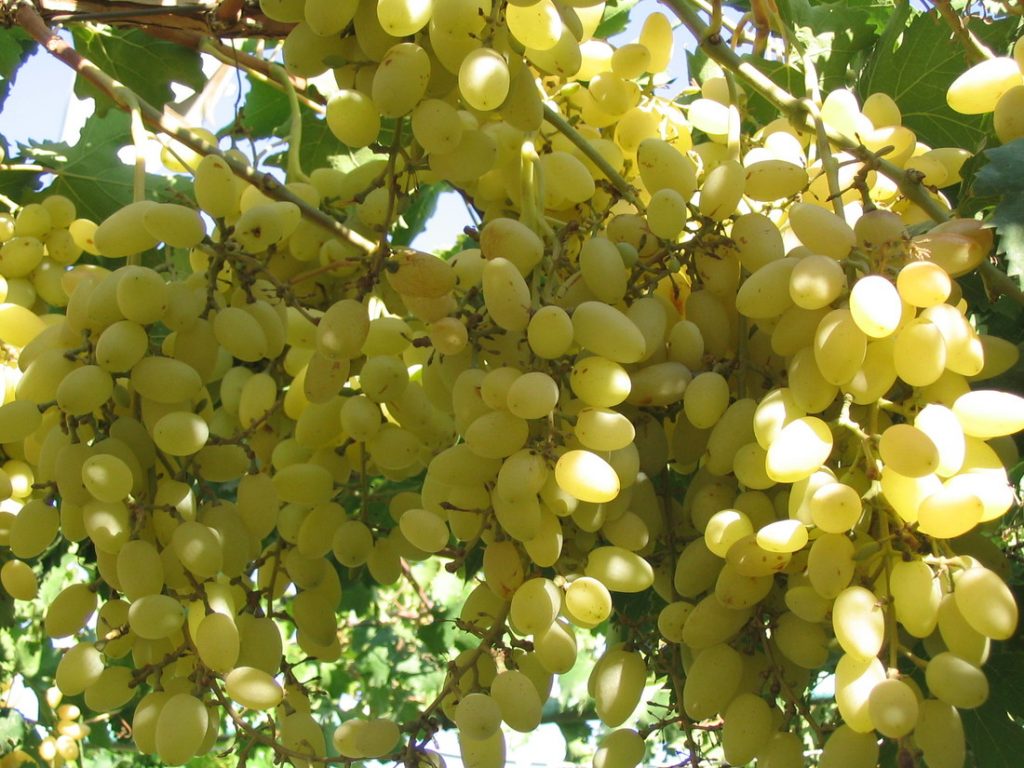 Carignan Grape
The Carignan grape, on the other hand, is a type of red grape that originates from Spain and southern France and is grown in Izmir. It is not preferred much because the wines produced have an intense taste.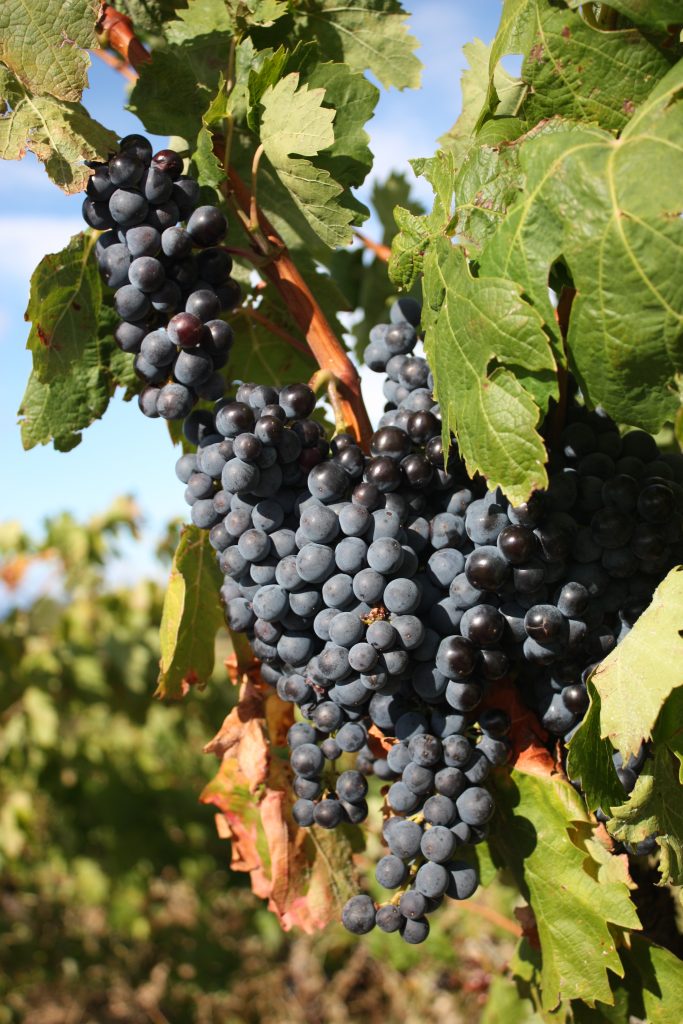 Şirince wines:
Let's talk about Şirince wines that everyone is addicted to … Of course, the majority say that wine is actually not wine, but a kind of alcoholic fruit juice. Right now I am asking my father: "What do you think about Şirince wines?" He laughs and tells me they are not wine. No matter how much we betray wine culture, let's pretend it's wine anyway.
Most fruit wines are made in Şirince, but the best known of these is black mulberry wine. I bought one a few years ago during our school trip. Of course, at that time, it was more tempting to buy alcohol, as my age was not enough to drink. I should not be alone, as almost all of my friends got one, because we only had permission to get one. I also used my one wine right on black mulberry.
That day I saw that my father had produced that wine. It was not drunk. It was also thrown away because it did not suit our family taste. Little Fulya would be sad.
But of course, winemakers and their addicts should not be upset. I think it was definitely a very successful wine experiment; I am sure that foreign and local tourists will join me. It does not matter whether it fits the definition of wine or not, the important thing is that when you open the wine, it is the sweet fruit smell and the taste that makes you smile.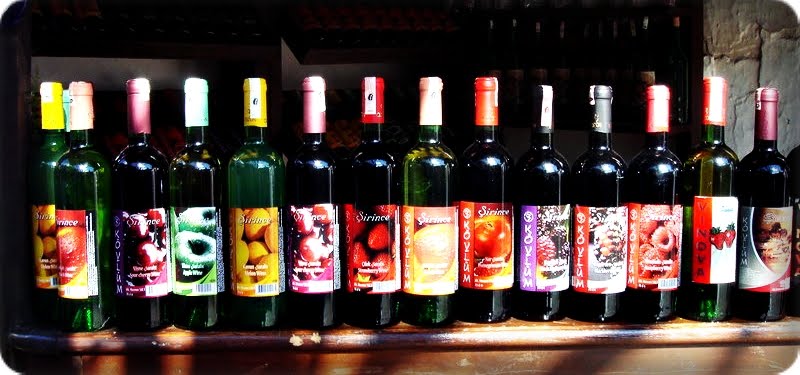 Central Anatolia and the Central Black Sea Region
And the expected moment has come. It's time to talk about the Central Anatolia region, which is the origin of Kalecik Karası. However, as I was just getting used to my blog, I decided not to explain the main subject in detail. You will get tired of this grape type that I will talk about in my following articles. But still it is necessary to make a start.
Apart from Kalecik Karası, I will briefly talk about Emir and Narince.
 Kalecik Karası Grape
Then let's start with Kalecik Karası. This grape, one of the most important grape varieties for red wine in Turkey, is grown in Ankara's Kalecik district. The grape is dark red, with thick skins, juicy inside, medium and sometimes large and round grains. It turns into a light red colored, distinctively light and aromatic, slightly smoky wine.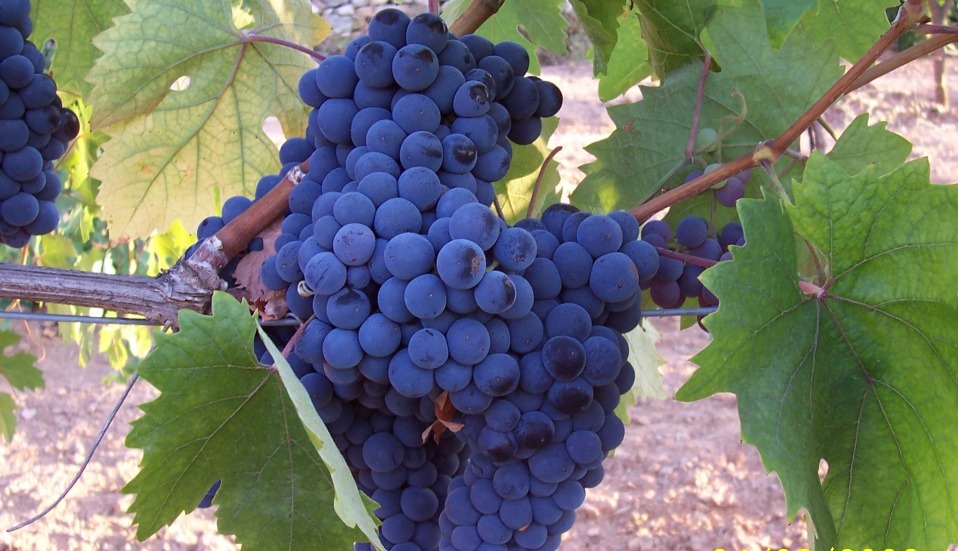 Emir Grape
Emir is a grape variety for white wine originating from Cappadocia. Its wine, which has an elegant touch, is very suitable for making champagne.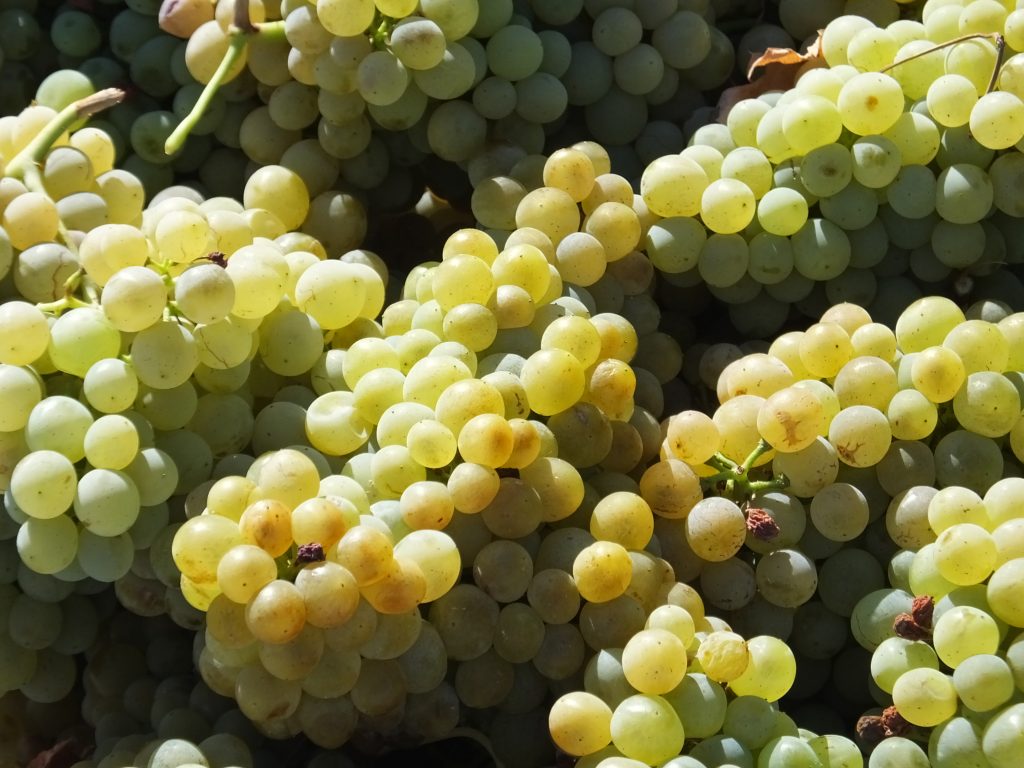 Narince Grape
Rich and qualified wines are obtained from Narince grape, which is a type of white wine grape specific to Tokat region. Suitable for aging. Its grains are light yellow, large and oval.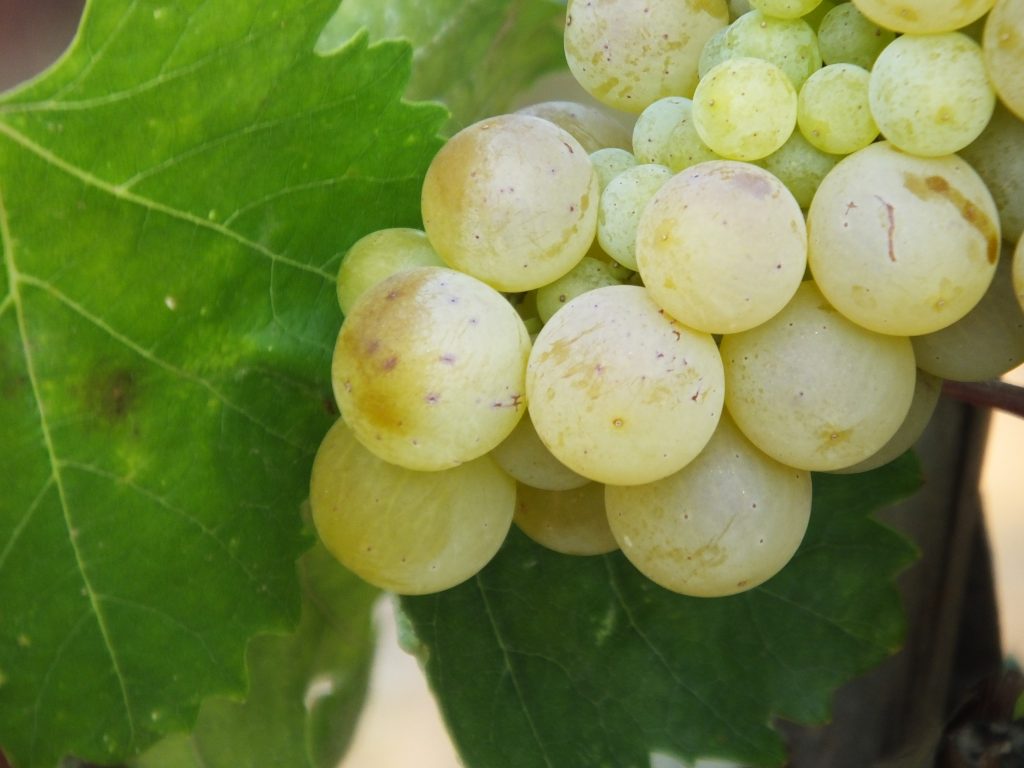 Eastern and Southeastern Anatolia Region
Turkey's most valuable red wines are produced from grapes grown in these two regions. You've probably heard the names of these two excellent wine grapes and even bought them at a high price. Which ones am I talking about? Of course, Öküzgözü and Boğazkere grapes for wine. High quality and rich wines are obtained from these two grapes.
Öküzgözü Grape
Öküzgözü is a type of wine grape originating from Elazig. It got its name because its grains are large and round. The rind is of medium thickness and the color is dark black. The wine is in a strong dark red color. It is the most suitable grape variety to be aged in Turkey.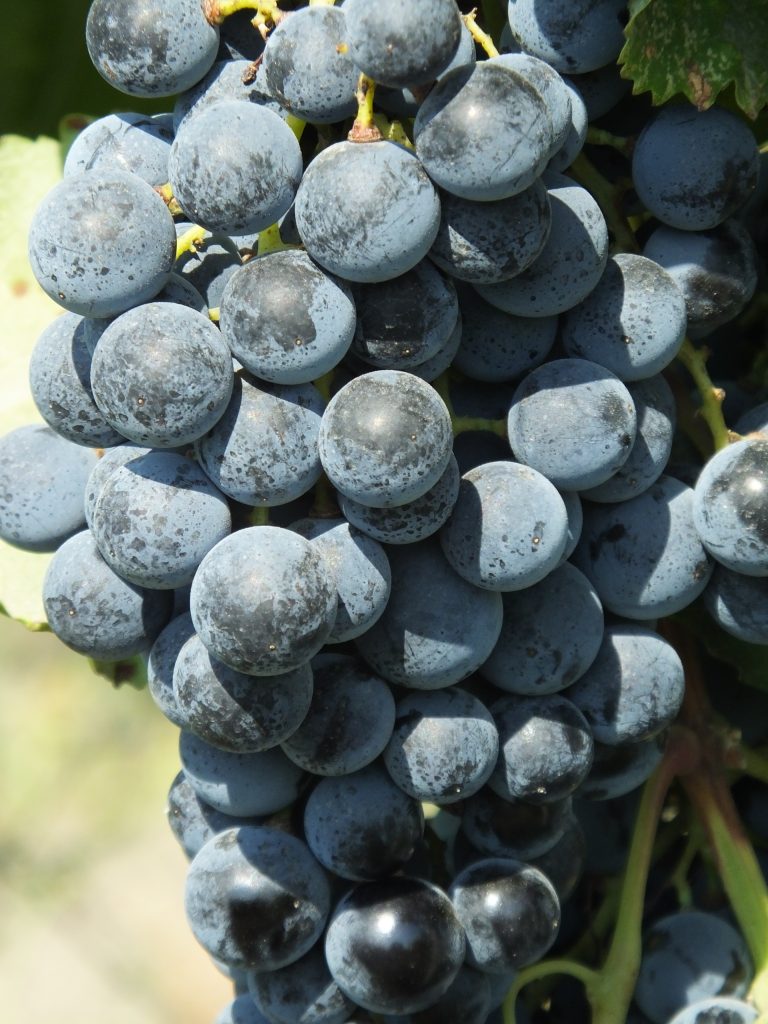 Boğazkere  Grape
Finally, I want to talk about Boğazkere grape. It is a grape variety for red wine grown especially in Diyarbakır and Elazig. It is among the grape varieties that produce superior quality wine. The grains are medium-sized, round, purple in color and thick. Its wine is dark red in color. The reason why the name Boğazkere is given is that it leaves a feeling of sore throat and sore mouth after drinking.