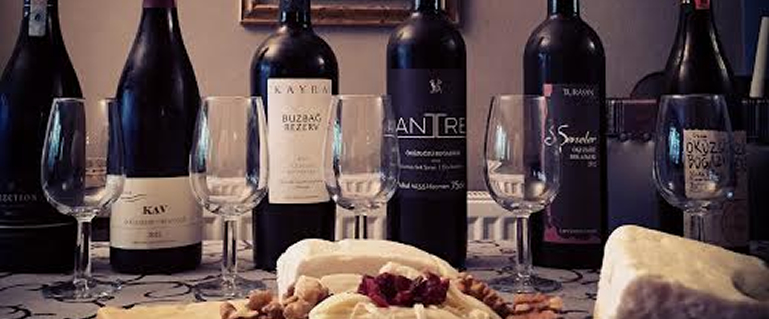 In this tasting, we evaluated the muggies made from two very valuable grapes grown in Anatolian lands. Diyarbakır's Boğazkeresi and Elazig's Öküzgözü. These two grape varieties for which wines can be produced around the world are not where they deserve and are not well known. Many wine professionals we spoke to in France and Italy had never tasted Turkish wines, let alone Boğazkere & Öküzgözü mugs. In our country, especially the consumers who are used to fruity, soft tannins and easy to drink table wines cannot evaluate Boğazkere & Öküzgözü mugs healthy enough due to their animal tones, leather, tobacco and earthy scents. I personally believe that the mugs made from these two ancient grapes will take their place among the world wines in the future. Despite all the difficulties, our producers strive to produce aged, complex, effective and deep wines.
1- Vinkara Doruk Öküzgözü&Boğazkere 2012
Produced from Elazig and Diyarbakır grapes, this wine is bright claret red. There are fruity, light spicy, cherry and damson fragrances in the nose, as well as touches of black pepper and green pepper. The smell of alcohol is dominant. A table wine with a light body, medium tannins, a short finish, and an unbalanced table wine. Its alcohol content is 13.5%.
2- Turasan Seneler Öküzgözü&Boğazkere 2012
Öküzgözü is from Elazig, Boğazkere is from Denizli. The smell of oak, prune, apricot and sour cherry is evident on the front nose. The warm climate of the Aegean region makes itself felt and you can smell the smell of cherry jam. A light bodied, short finish, medium tannin, 13% alcoholic wine. Rested in French oak barrels for 11 months.
3- Kayra Buzbağ Rezerv Öküzgözü & Boğazkere 2012
An Öküzgözü & Boğazkere mug with dark ruby color, mature tannins, body, acid and 13.5% alcohol. The oak and earthy smells are evident on the nose, as well as the scents of red fruit, toast and cedar wood. A special and strong wine with strong tannins on the palate, with a full body, in which the aromas of prunes, sour cherries and ripe red fruits are felt intensely, and rested in French oak barrels for 24 months. The smell of oak is a little more prominent. Kayra says that this wine can be aged for up to 15 years under suitable conditions. It is necessary to re-evaluate after 3-5 years. Sludge may form over time due to restricted filtration. Such strong wines must be decanted by decanting. It can be sipped with sauced and oily heavy meals, tandoori, grilled meats, and fragrant mature cheeses.
4- Doluca Kav Öküzgözü & Boğazkere 2012
A strong wine with 14.5% alcohol, produced from Southeastern Anatolia and Eastern Anatolia grapes, kept in French oak barrels for 12 months. Dark purple in color. There are fragrances of plum, cherry, cherry, tobacco and leather. The oak fruity smells did not suppress. Despite its high alcohol level, it is quite balanced, bodied and with mature tannins. The end is long. It can be kept for 2-3 years. After the carafe is taken, it should be tried with sauced and fatty meat dishes and grilled meats.
5- La Antre Öküzgözü & Boğazkere 2012
A dark purple, medium bodied wine with 13.5% alcohol, produced at the LA Winery facilities in Torbalı, Izmir. Acidity and sour fruit smells are at the forefront. It has an unexpected sweetness, different from other mugs produced from these grapes. It is useful to try other harvests.
6- Kavaklıdere Selection Öküzgözü & Boğazkere 2012
Selection Red, which started to be produced in 1987 in honor of the 60th anniversary of Kavaklıdere wines, is a strong cupage reflecting the character of Elazığ and Diyarbakır grapes. A dark ruby red colored, 14% alcoholic, full bodied wine with a long finish. The nose smells of ripe dried fruit and spices. Permanent and mature tannins, damson and earthy connotations are evident on the palate. It was aged for 8 months in a French oak barrel. Limited filtration has been applied to preserve Öküzgözü and Boğazkere characters. It is stated on the bottle that it is suitable for aging. It should be poured into the carafe in 2-3 years. It goes well with red meat dishes with spice sauce, fatty grilled meats and fatty mature cheeses. It should be served at 17-19 degrees.