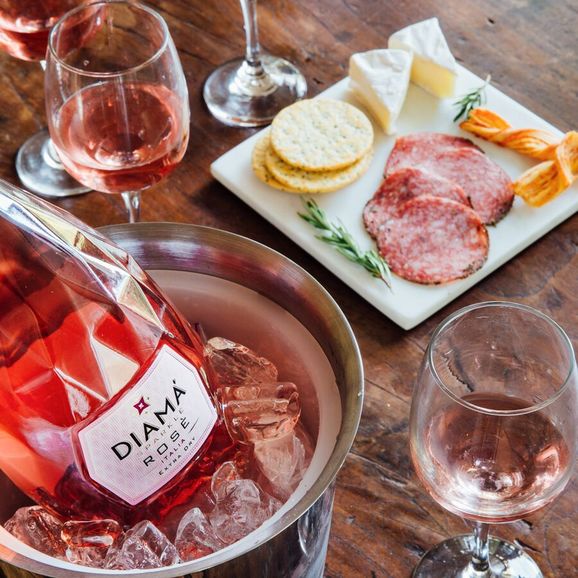 In this tasting, with our friends who love wine, who want to develop wine culture, who want to train and develop their nose and palate, we will first discuss topics such as "what is wine, what are its differences from other beverages, the short history of wine, wine varieties, noble grapes, local grapes, tasting techniques". We processed it in different ways, then we tasted and evaluated 2 white, 2 rose and 2 red wines, respectively.
We aimed to see the basic characteristics and differences of white, rose and red wines by choosing 2 wines, one light and one strong, and also to get the participants to learn the main lines of production techniques. In addition, we had the opportunity to taste the wines we picked from the producers on our Thrace Vineyard Route trip in September.
1- Firuze Sauvignon Blanc, Narince 2013
A 14% alcoholic white wine made from Sauvignon Blanc grape harvested from an altitude of 550 meters in Şarköy-Gaziköy region and Narince grape of Tokat region. It is light yellow, slightly fruity and floral, and alcohol is in the foreground on the nose and slightly weak palate. It should be drunk within 1-2 years without waiting. The manufacturer recommends serving between 5-8 degrees.
2- Kayra Vintage Chardonnay 2012
Kayra Vintage Chardonnay 2012 is a 13.5% alcoholic wine produced by the Sur Lie method and weekly battonage in oak barrels (Barrel Fermented) in Mey's Şarköy Wine Production Plant and applied limited filtration in its production. It is light golden in color, with the scents of vanilla, butter, peach and nectarine and floral nuances on the nose. It has apricot, peach and honey connotations on the palate. It has a medium body and a slippery structure. It can be sipped with seafood or white meat at 10-12 degrees. The producer stated that it is a wine that can be aged under suitable conditions, and it can be stored for 3-4 years. The price and quality balance is within reasonable limits. A Chardonnay that we wouldn't hesitate to recommend.
3- Uçmakdere Rose Kalecik Karası 2014
It is a light and fruity wine made from Kalecik Karası grapes grown in Ankara's Kalecik district, despite its 14% alcohol content. It can be sipped as an aperitif without cooling too much.
4- Chateau Nuzun Rose – Cabernet Sauvignon & Merlot & Zinfandel & Syrah 2012
Chateau Nuzun Rose 2012 is a strong rose wine with 13.5% alcohol, medium bodied, produced by natural methods in the wine house located in the vineyard from the organic certified grapes of Çeşmeli vineyards. This wine is a different product with its color, taste and acidic structure from the general rosettes bearing the characteristics of both a rose, a red and a white wine.
During our tasting, there were those who said that if a complete blind tasting had been done, that is, if it was tasted with eyes closed at the same time, I would say that this wine was white wine, and I would say it was a red wine. The analogy of white wine is not very close to me, but I do not completely dismiss it as there are those who think so. Although not very intense, tannins and red fruit flavors indicate the use of black grapes.
47% Cabernet Sauvignon, 41% Merlot, 7% Zinfandel, 5% Syrah
It is an amazing product that challenges habits with its color, taste, density and grape varieties. It should be tried with lean red meats, salmon, pizza and pasta with sauce.
5- Suvla Kabatepe Kırmızı Cabernet Sauvignon, Syrah, Karasakız 2013
Produced from Cabernet Sauvignon, Syrah, Karasakız grapes grown in Kabatepe vineyards of Suvla and finding its identity with the touch of Cabernet Franc and Merlot, Kabatepe Red 2013 is a wine with 13.5% alcohol and ruby red color. A table wine with a fruity and spicy texture, comfortable drinking, light bodied, barrel-sighted. It goes well with red meat dishes, pizza, pasta, and barbecue. Before serving, it can be ventilated for 15-20 minutes.
Suvla Kapatepe Red was a wine that attracted the attention of the participants due to its easy drinking, balanced and fruity structure, which can be preferred for daily consumption and can be adapted to many dishes. The price-quality balance is also successful.
6- La Consensus Shiraz, Cabernet Sauvignon, Merlot 2011
Produced in a limited number of Shiraz, Cabernet Sauvignon and Merlot grapes grown in the organic vineyards of La Organik Winery in Torbalı, this strong red wine was aged for 18 months in medium-blight French and American oak barrels and limited filtration was applied in its production. A bodied, well-balanced and strong wine with red fruit nuances such as plum and cherry, and caramel, dark chocolate and spicy bouquets. We served this wine number 6 by taking it into the decanter. This wine, which has a strong tannin structure, which we can feel the red fruity effect of Cabernet and Merlot with the spice effect of Shiraz next to oak, is a bit expensive in terms of price quality balance. We also understand the manufacturer who makes organic production, takes care in terms of production techniques and produces special products, we also know the difficulties of the sector, but when we make an objective assessment as a consumer, we think that this wine is a bit expensive.